Welcome to ESGDIRECT.COM


Dry Hands Ultimate Gripping Solution

Is There a Slip In Your Grip?
We have been selling Dry Hands Ultimate Gripping Solution for over 15 years. It works well for any sport, like golf, tennis, racquet ball, lacrosse, football, baseball, weightlifting and more. If your hands perspire because of nerves use a little dollop for a confident handshake. In hot, humid conditions this could be the difference between a win and a loss, a goal or no goal, a hit vs no hit. You get the picture. Used for Fitness Pole Dancing too. Stock up.
Sports Performance Enhancement
If you are active in sports and you perspire heavily, especially on those hot, humid days, you really need to try "Dry Hands." The non-sticky gripping solution for hot, humid or rainy conditions. It's so effective it repels water and perspiration. It is currently available through EsgDirect.com in 2 oz. bottles. A little goes a long way. Try it out. A very convenient sized bottle of liquid chalk that fits easily into your gym bag, purse or golf bag. For a better grip in any sport.
---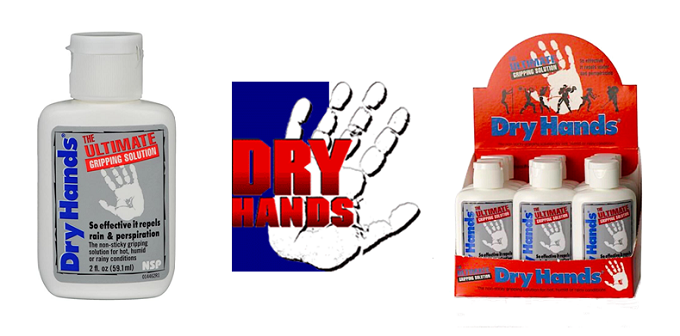 What is Dry Hands?
DRY HANDS is a performance enhancing solution that alleviates grip problems caused by perspiration or rain. So effective, it actually repels water. Feel the difference with DRY HANDS, the most natural and comfortable grip available in sports today.

The advantage to DRY HANDS is that it is not sticky or greasy. And since it leaves no powdery mess, you won't even realize you have it on. Best of all, it's long lasting and economical so you can concentrate on the game at hand.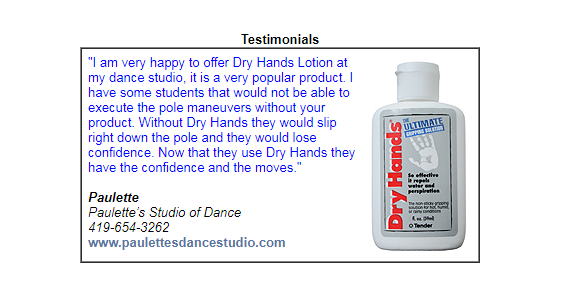 Who Uses Dry Hands?
DRY HANDS is used by anyone whose personal or sports performance is adversely affected by wet hands from perspiration or rain - golf, tennis, bowling, baseball, football, basketball, gymnastics, weight lifting, ice hockey and even fitness pole dancing!

How do you apply Dry Hands? Clean and dry hands prior to application. Dispense a small amount into the palm and spread evenly across the surface. Allow to air dry for approximately 15 seconds.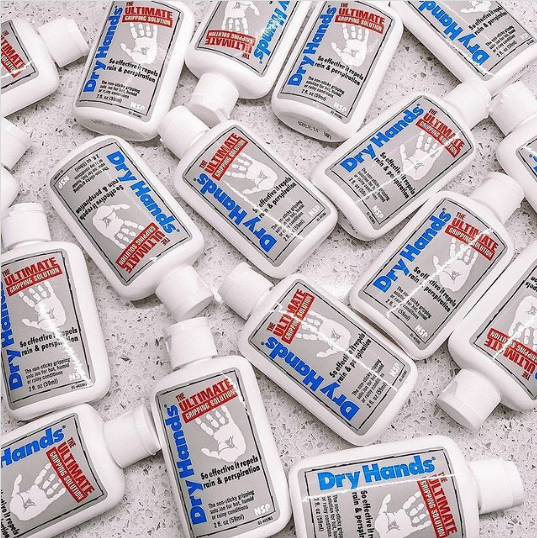 Buy Dry Hands by the Bottle!
DRY HANDS comes available in single, 2 ounce bottles. Order from 1 to 11 loose bottles. If you need an amount between increments of 12, use this order method below. More than 1 dozen purchased will come 1 counter display package per 12 ordered.

We discount per bottle for quantity purchases!

12 to 35 Bottles, $.50 Discount
36 to 71 Bottles, $.75 Discount
72 to 143 Bottles, $1.00 Discount
144 to 192 Bottles, $1.25 Discount

Maximum purchase is 16 dozen for UPS and USPS shipping purposes.
$10.00 Per Individual Bottle 1 to 11
Discounts from 12 and up.


CURRENTLY UNAVAILABLE - No ETA

| | |
| --- | --- |
| | |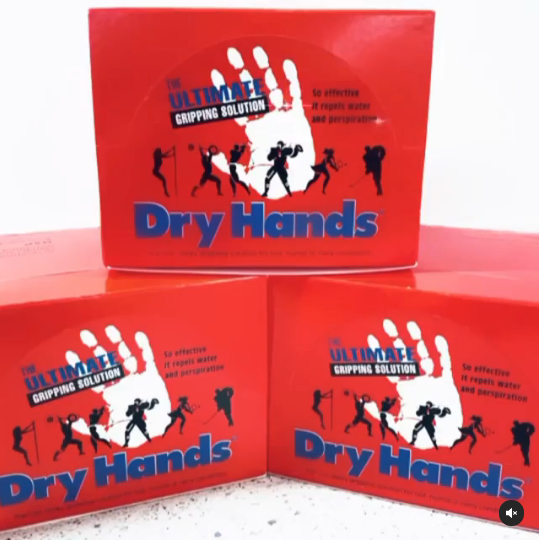 Buy Dry Hands by the Display Box!
DRY HANDS comes packed in an easy to setup counter display box of one dozen, 2oz bottles. Great for your retail shops or fitness centers. Use this method for ordering by the dozen in even increments of 12. Order from 1, one dozen box to 16.

We discount per dozen for quantity purchases!

1 to 2 Dozen Boxes, $6.00 Discount (off regular price of $120.00)
3 to 5 Dozen Boxes, $9.00 Discount
6 to 11 Dozen Boxes, $12.00 Discount
12 to 16 Dozen Boxes $15.00 Discount

Maximum purchase is 16 dozen for UPS and USPS shipping purposes.
Starting at $114.00 Per Box
By the Dozen (1-2 Doz)


CURRENTLY UNAVAILABLE - No ETA

| | |
| --- | --- |
| | |